The RUX 70L Storage System - More that a fancy bag...or box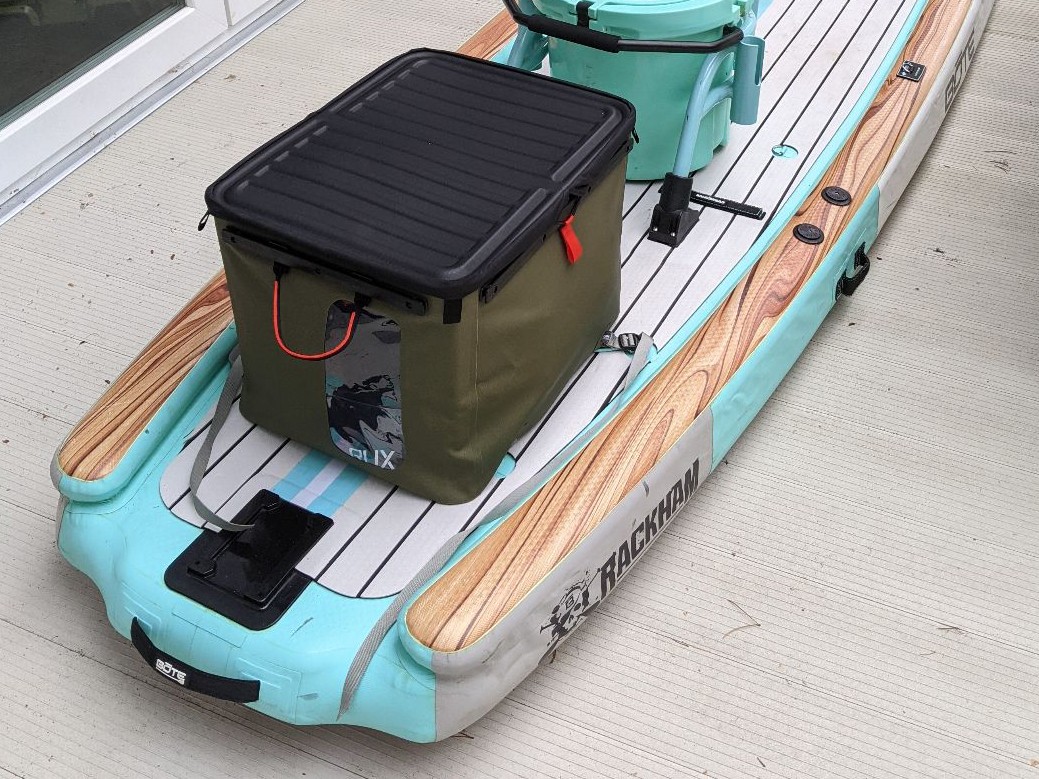 You can never really know how a new product will hold up until you can put it through the paces. That means getting out and testing it where it will be used. What I mean is, often times we buy a product for what it can do but use it for much less that that. Take the RUX 70L storage system that I had the opportunity to test on a recent trip. The RUX system is designed to be rugged yet convenient and versatile, however, I can see many people using this for things less rigorous like grocery runs, picnics and camping with the family. And that is a perfectly good reason. But, when we get to truly put these type of products to the test we find out just how good they are.

Both. When I first saw the RUX being crowd funded I was intrigued. It seemed like it fit my lifestyle full of Yeti coolers and OR stuff sacks. The RUX 70L Storage System claimed to be both a bag, a storage box, a utility bin and more. You could take it paddling, fishing, store stuff meant to stay dry or stuff meant to stay wet. Too good to be true? I had to find out for myself so I was pleased to hear I could get one at my go-to gear shop, Valhalla Pure Outfitters.

First Test - Rolling on the River
There was a trip my friends and I had been planning since Winter. The idea was to paddleboard from Slocan Lake down the 53km Slocan River. This was to be my first long paddleboarding adventure and certain my first one that included some whitewater sections. I was going to put all of my clothes and camping gear is waterproof stuff sacks but being a photographer I required something weatherproof that would also protect my gear. Since I hadn't done this before, there was a real probability that I would be getting wet and I didn't want that same fate to fall upon my equipment. Then the RUX 70L flashed to mind.
The Swiss Army Knife of Storage
The doorbell rang and my RUX was here. My first impression upon opening the package was that it was so compact. The RUX packed down nice and flat yet still had a sturdy frame and seemingly bombproof fabric construction. It has a rail system for handles and straps as well as multiple attachment points. This made attaching it to my paddleboard an easy process and would likely transfer to many other configured boards, boats and racks. The lid of the RUX is sturdy so I could use it as a work space for my camera gear. I even took a few minutes to fire up the pocket stove for a mid-river coffee!
The lid on the RUX 70L can be opened from either side. Picture an old style wicker picnic basket. I liked this set up because navigating in moving waters means having your eyes on the river and usually needs two hands. But when I wanted something out of the RUX I could manage easily with one hand. This came in particularly handy when the skies opened up into a deluge of rain. I had quick access to my jacket whereas my counterparts were left digging through their stuffed stuff sacks. As I got to know this system and it's flexibility I configured some straps over the lid for added security. The timing was right as our first set of Class 3 rapids were around the corner.
Stowing gear in my new RUX looked like a magician who kept pulling rabbits out of his hat. All together I had:
some gear stowed in a couple smaller bags:
Sleeping bag
Insulated mat
Hammock
My food and cooking items
Folding saw
Water bottle
Mini tripod
Backpacking chair
Rain gear
This was my first trip camping on a SUP and the RUX was a excellent addition to this adventure.
Overall I am impressed with the RUX 70L Storage System. It works as advertised and is a well thought out storage system. It kept the rain and the river out and appears to be very durable and easy to clean. I can also see the RUX being excellent for camping trips with my family and in everyday life like keeping the grocery's corralled in the back of my car.
Stay Informed
When you subscribe to the blog, we will send you an e-mail when there are new updates on the site so you wouldn't miss them.
Comments
No comments made yet. Be the first to submit a comment