Field Tested: The Fritschi Tecton 12 and the Salomon S/LAB SHIFT MNC 13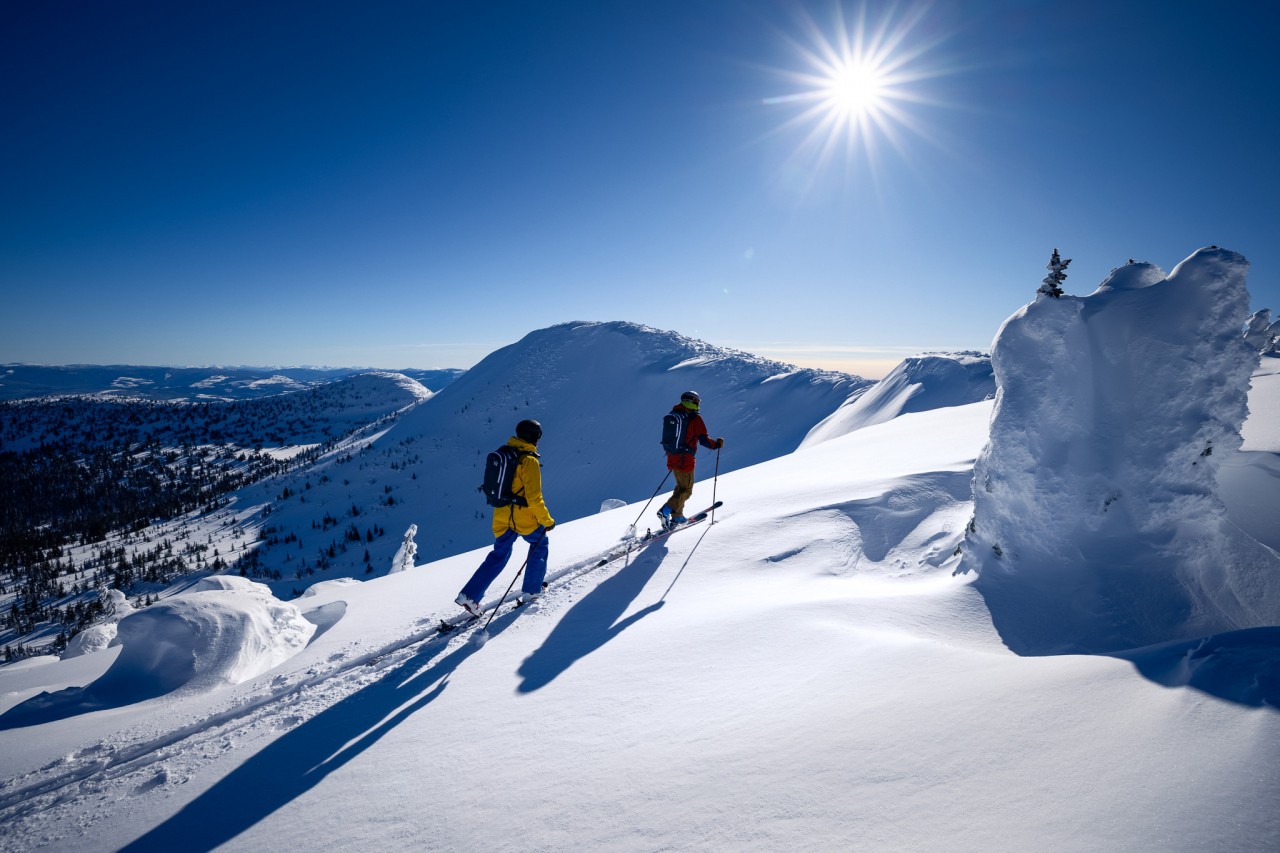 Like many of you, we have been venturing into the backcountry more and more. After a few years of dipping off the backside of local resorts we have now got the backcountry bug and are finding ourselves being drawn towards quite walks up mountains with the promise of awe-inspiring vistas, fresh tracks and less people. But the question has always been: What gear should we use? Specifically which binding set up?

To start with we all got set up on frame bindings. A few were on the Tyrolia Adrenalin 16 while the others in our group opted for the Marker Baron. These were a great option for us. We were primarily resort skier who found ourselves on a few catskiing and heliskiing trips each year. Then we saw the massive opportunity for ski touring here in BC and got a couple G3 bindings - The Ion 12 and the ZED 12. While these are incredible bindings and proven in the real world, they are very specific to ski touring. Sure they work on the resort and for the occasional sidecountry adventure but we wanted something more versatile. The trick was, we didn't want to sacrifice true backcountry bindings (lightness, ease of use etc) while adding the protection and secure feeling a traditional freeride binding offers. That is when these do-all bindings began to hit the market. First Salomon blew up the scene with their S/LAB Shift MNC 13 and then Marker with theirs and like a shy European mountain man keeping to himself, Fristchi released the Tecton 12. We chose one of each. Here is what we thought:
The Salomon S/Lab Shift MNC 13
First of all, the Salomon S/Lab Shift MNC 13 is likely the easiest to use for both frontside and backcountry skiing. It has a full MNC (Multi Norm Certified) toe piece that switches to a PIN binding with the flip of a lever. This means you get full DIN toe capabilities when skiing downhill yet you can easily 'shift' into a PIN enable walk function quickly and effortlessly. When in touring mode the PIN toe locks in place and functions like a typical PIN binding. You can make the toe shift with gloves on, flip the heel switch and step in. The brakes automatically lock up and your climbing bracket can be adjusted using your pole. The heel piece cups the back of the boot for a nice secure purchase on the boot making you feel locked in and ready for any conditions the downhill may throw at you.
When compared to skiing on the G3 Ion and Zed bindings we feel that this is easily the best combo touring/resort binding on the market. Sure, the weight is a trade off compared to the G3 bindings but the ease of use and attraction of having a one-ski quiver is worth it. And don't get us wrong, we still love our G3's, we just think we may have found the sweet spot with the Shift.

The Fritschi Tecton 12 Bindings
After a couple of years wading into touring with frame bindings and one suffer-fest of a trip I decided it was time to get serious about binding choice. I have sustained a few injuries throughout my skiing life and was a little apprehensive about going to a full-on, super light set up like the G3 Ion. Although my friends have used them and they are in the same beefy boy category as me (200+ lbs naked!) and they are happy with them, I wanted a bit more security and function. I was toying with the Shift option until an old vertaran of the ski community pulled me aside, whispered in my ear with his gravelly voice and said, "son, if you are serious about touring and serious about skiing hard, just by the Fritschi Tecon and be done with it". So I did.
My reasons, aside from the pressure from old-ski tour guy, was the functionality of the toe piece. It is PIN only unlike the Shift so you have to have an AT boot to use it but the seasoned techs at Fritschi have developed a toe like no other. It has wings that open if you need to release, not unlike the Shift, but the whole PIN assembly slides with this design. So should you need an emergency exit out of the binding your knees will benefit from an AFD like movement from the binding. I researched the CAST bindings system - because I am a huge Look Bindings fan - and although I liked the idea I did not want to fiddle with switching out toe pieces. The latest Marker Duke PT 12 was on my radar as well but again, messing with multiple piece toes was not something I was interested in. To me, the Fritschi Tecton 12 gives me all the touring capability I want while giving me the security and safety that was at the top of my list.

So Which Binding is Right for You?

As I am sure you can tell by this little write up, we have tried a number of ski touring bindings. We have also researched online, talked to people who use the gear and decided on which worked the best for each of us for differing reasons. We suggest you do the same.
Just getting into it?
If you are just getting into touring, maybe one excursion a season with a bunch of sidecountry action off the resort, a frame binding might be perfect. Especially if you have a traditional ski boot with a walk mode. Our top choices for that would be the Tyrolia Adrenalin 16 or the Marker Baron.
Looking for the lightest, fastest touring set up?
Clearly you are a seasoned backcountry skier and you have some knowledge. We have had excellent experiences with the G3 Ion and Zed. They are purpose built and have evolved through a few revisions. They are field tested and are trusted by backcountry nerds all over Canada.
Want the best of both Worlds?
That is what this post has been all about. We have a whole season on both the Fritschi Tecton 12 and the Salomon S/Lab MNC 13 and love them both for different reasons.



Stay Informed
When you subscribe to the blog, we will send you an e-mail when there are new updates on the site so you wouldn't miss them.
Comments
No comments made yet. Be the first to submit a comment