Dark and Stormy Riding the Big White Bike Park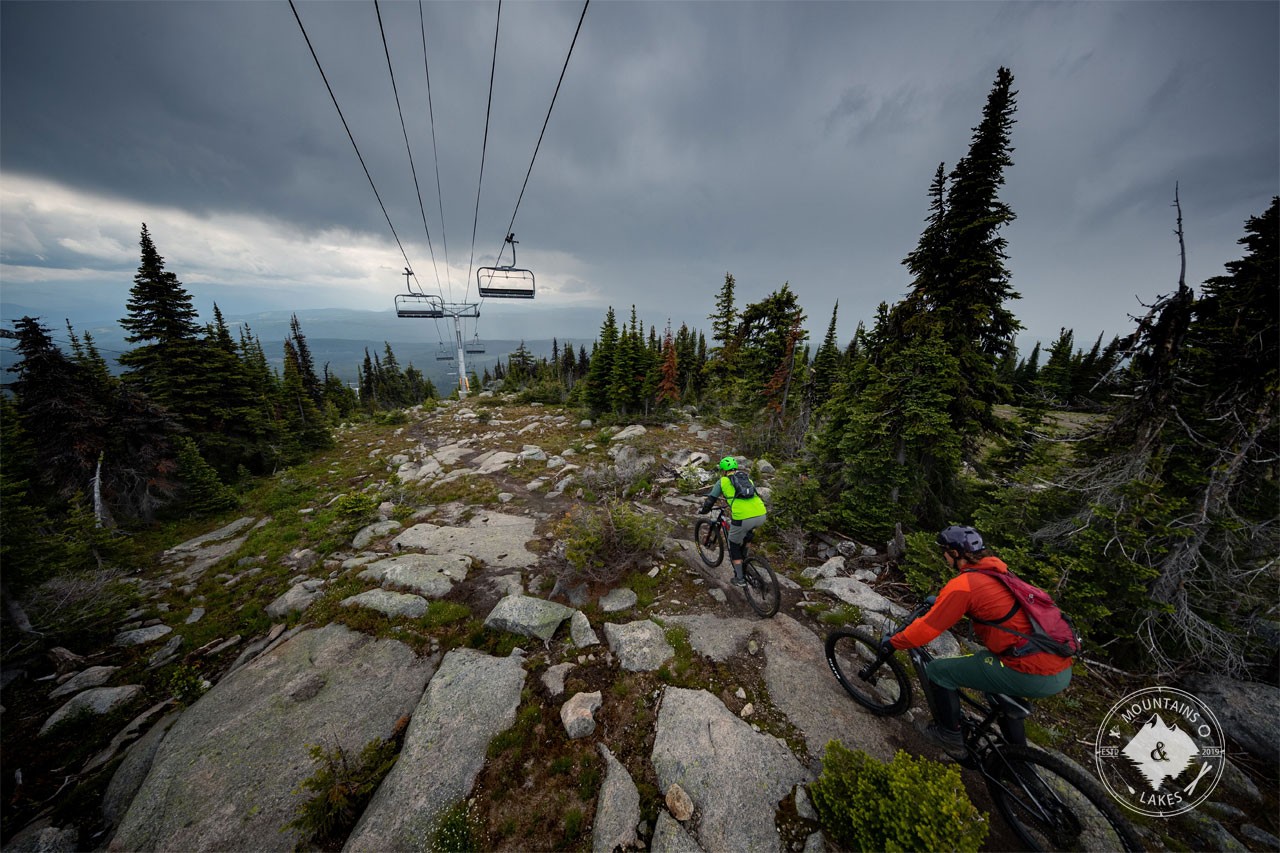 It's been a rainy start to July but we aren't complaining. Here is BC we are nervous about forest fire season so any rain we get, we will take. That being said, sometimes it is hard to be motivated to go riding. Especially when the geniuses at The Weather Network can't seem to read their crystal ball right. Seriously, I think we were motivate to go play outside more when there wasn't a 24hr weather news service... So here we are, the second week the Big White Bike park is open and the boys are off. I say the boys because I am still recovering from a mechanical failure that resulted in a rather large bike repair bill and a hole in my lower calf! As a result, I recount the day from the other end of the group chat here at my office.
The four of us must have some sort of record. I think we have had the same group chat going for 10 years now. It is quite something. If you printed it out it would be some weird account of our lives. Biking, skiing, meat nights, family stuff and some really strange inside jokes and meme swapping. Ok, back to the day...
We knew bad weather and thunder showers were in the forecast and the sky seemed to reflect this prediction. Geoff, John and Adam headed up anyways with hopes of a few runs, a beer at The Woods and then home early. Hey, a few laps on the bike are better than no laps right?
Adam went at Bermslang hard right out of the gate. Flowing like a madman and then boom, he hit a mud patch and down he went! Bruised but not broken and after a quick break and dust off in the village they were back at it. This time over to one of my personal favorites, Rocket Science.
Rocket Science takes you over to the Ridge Rocket / Snow Ghost area and drops you down right under the chair. I love this trail because it is a more 'old school' technical decent. It is rated black diamond and for good reason. Although the trail in it's entirety isn't that challenging, it has sections that really make your eyes widen and your butt pucker up! The word I got on the group chat and the accompanying pictures were that today with the sprinkle of rain starting it was a sporty ride down. I am sorry I missed it because I LOVE that kind of riding.
Overall it was another banger day at the Big White Bike Park. The crews continue to toil away and making the trails even better each time we come up there. They really are developing something for every style of rider. My new parts arrived today so my bike will be back together. As for the hole in my leg, well, that is taking its time! And Adam, well, he is wrapped up in a splint and will be off for a bit. But rest assured, he'll be back and shredding the trails in no time. Now, we have the first few crashes out of the way and on to a safe and fun summer of riding!
Berms, bails and riding slick rocks - check out the video of the day!
Adam rocking the rocks on his Rocky Mountain
If only they saw this on the first lap!
Dark and Stormy and oh so beautiful
John readying himself for Rocket Science

We are looking forward to the Big White Freeride Days this coming weekend - July 11-14. We will definitely be there for the finals. If you are even remotely interested in mountain biking you have to check this event out. Not only are their world-class riders there doing unfathomable stunts, there will also be food trucks, coffee stands and I am pretty sure beer gardens!

Stay Informed
When you subscribe to the blog, we will send you an e-mail when there are new updates on the site so you wouldn't miss them.
Comments
No comments made yet. Be the first to submit a comment